Sinopec Group Carried out a Special Fire Protection Assessment in the Company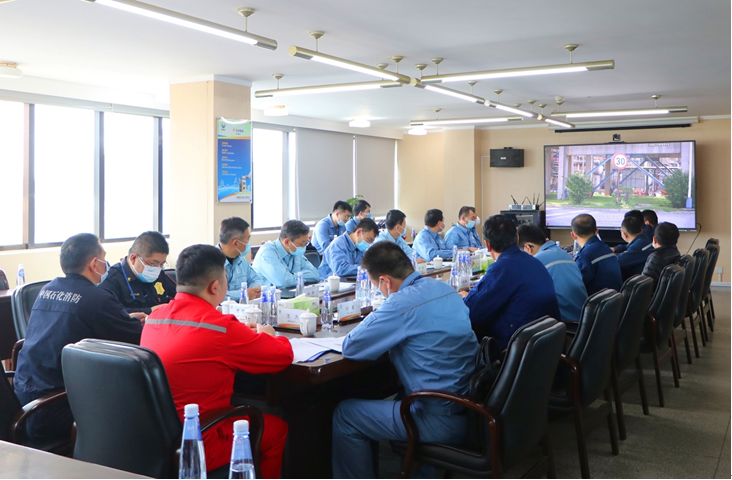 On February 23, the Special Fire Safety Assessment Team from Sinopec Group visited the Company for a special assessment on fire protection. Vice president Lin Xu and vice president Suchart Phowatthanasathian attended the kick-off meeting.
At the meeting, Zhang Deliang, lead of the Assessment Team, introduced the background and the work arrangement of this special assessment, and put forward requirements. He commented that this assessment was an important work deployed by Sinopec Group, and the main intent was to prevent and resolve major fire safety risks, stop major fire incidents, and ensure safe and stable production.
Lin Xu welcomed the Assessment Team. He said that the assessment was a physical examination to current production safety work of the Company. The whole organization shall fully cooperate with the Assessment Team to ensure an orderly, efficient and safe assessment. In addition, FREP should make good use of this opportunity to consult the experts with an open mind, identify gaps and work hard on rectification of the gaps identified with specific measures, so as to lay a solider foundation for production safety.
Lin Xu commented that the Company would formulate rectification plan for the identified problems, take rectification measures with immediate actions and ensure closed-loop management.
Suchart Phowatthanasathian commented that the Company had always attached great importance to manage and control major hazard sources, planned the establishment of emergency management center, continuously improved fire protection facilities, enhanced safety management measures, and strengthened safety supervision. We hoped to make exchanges and learn from each other during this assessment.
The Assessment Team was then divided into two discipline groups, i.e. major hazard sources and fire team assessment, to respectively inspect the processing units concerning major hazard sources and the fire brigade.
The management personnel of FPCL Safety& Environmental Protection Department, and the responsible people of FREP HSE Department and business teams attended the kick-off meeting. (Zhuang Jiansong)