The Company Held an Internal Trainer Certification Ceremony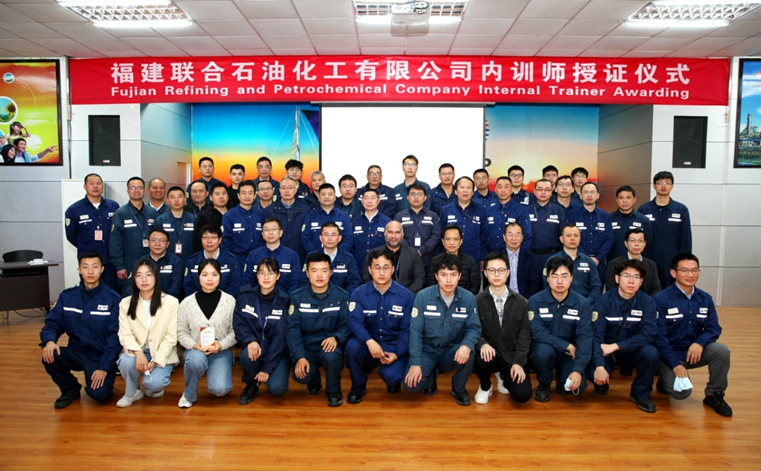 On March 1, the Company held a certification ceremony for internal trainers. OOP and relevant department management, leads of the Model Worker Innovation Studios, and representatives of internal trainers of the Training Management Academy attended the ceremony.
President Saleh Zaid delivered a speech. He first thanked the internal trainers for their hard work and contributions to the Company's training work. He commented that the Company's vision was to be a world-class petrochemical company with sustained competitiveness. In the journey of building a world-class company, the Company needs a high-quality talent team. The higher the quality of the employee team, the faster the Company's vision can be realized.
Saleh Zaid commented that internal trainers were responsible for important task of talent training in the Company, and should work hard in their disciplines, ensure effective teaching, and guide youth employees to grow rapidly with their experience and wisdom, thus to meet the development needs and contribute to the high-quality and sustainable development of the Company.
Vice Presidents Lin Xu, Suchart Phowatthanasathian and Li Ji affirmed the work achievements of the internal trainers and put forward expectations for future work. They required that firstly the trainers should carry out training focusing on the Company's production and operation, and tackle issues in actual work to improve personal abilities and help the Company achieve more stable and optimal operations. Second, based on the production characteristics, continuously improve training courses, proactively benchmark with the advanced enterprises, innovate training methods and further improve training effectiveness. Third, strengthen construction of the internal trainer team, expand the team with highly skilled business backbone of all units, and establish an internal trainer team with all disciplines, high-quality and good structure.
Yuan Huadong, General Manager of Human Resources &Administration Department and Dean of the Training Management Academy, introduced the Company's training work.
Zhang Zhaohong, coordinator of Instrument Control Group of Mechanical Department, delivered a speech on behalf of the internal trainers. He said that the internal trainers would follow the Company's deployment on training, focus on six training methods, i.e., practical training, apprenticeship, business competitions, emergency drills, simulation training and online exercises and carry out regular training closely based on actual production to comprehensively improving employees' ability to operate up the standard, handle emergencies and solve practical issues, and promote the Company's high-quality and sustainable development.
At the meeting, OOP issued the employment certificates to the deans of the four academies, and the dean of each academy issued the certificates to the representative of the internal trainers.
The Training Management Academy of the Company was established in 2021, consisting of four academies of production technology, mechanical equipment, HSE and comprehensive management, with total 137 internal trainers. In 2022, the Training Management Academy carried out a total of 1,562 training programs. (Zhang Lei)