The Research Team of China Energy Chemical Geology Union Visited the Company for Research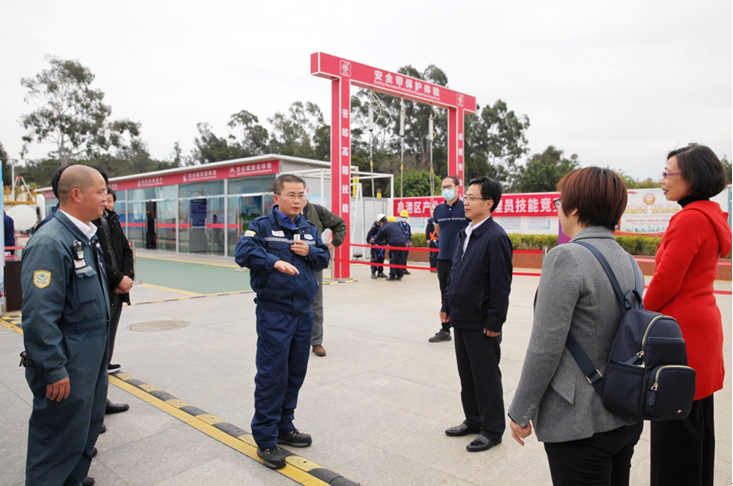 On February 22, a research team led by Jia Haitao, vice chairman of China Energy Chemical Geology Union and member of the Branch of the Leading Party Members' Group, visited the Company. Liu Bingxin, the Level-II bureau rank official of Fujian Federation of Labor Unions, accompanied the research. Lin Xu, member of the Party Committee and vice president of the Company, introduced the Company's profile, talent team building and other information to the Research Team.
At Huang Xiaobin Model Worker Safety Innovation Studio, Jia Haitao learned about the construction of the Studio, expressed strong interest in various safety experience items, and visited the functional areas such as fell from height, fire fighting, blind plate operation and mechanical injury. He inquired about the functions of the experience items in detail, and exchanged how to use these functions with others with great interest. He commented that it was practical to simulate the real operation scenarios, and the trainees could experience the importance of safety through hands-on practice, which should be praised.

At the Employee Skill Training Base of Zhang Zhaohong Model Worker Safety Innovation Studio, Jia Haitao and the delegation visited the areas of instrument, electrical, fitter and static equipment, learnt the reports of the discipline personnel, understood the process of the training base from project proposal, organization preparation, facility improvement till founding, as well as its future development plan. He inquired in detail about the equipment functions, curriculum, trainers and other aspects. When he learned that the Training Base had completed training for more than 20,000 person times in recent years, he highly affirmed the achievements of the Base. He said that "the Employee Skill Training Base worked hard on innovation and creation, trained high-quality talents for the Company, gave full play to the role of Model Worker and contributed to local economic development."
Accompanied by the Company management, Jia Haitao also visited the Exhibition Hall and the New CCR, and had a car tour in the plant. He learnt the reports on the development history, organizational structure, production and operation of the Company, and inquired about the scale of the units, staffing, product slate etc.
It was reported that the Research Team focused on the development of the petrochemical industrial park and the construction and reform of the industrial workforce, visited Quangang Petrochemical Industrial Park and some enterprises, carried out research and discussion activities to learn the construction and work of the primary level Labor Union organizations, and listened to the opinions and suggestions on the construction and reform of the industrial workforce.
Relevant leaders of Quanzhou Municipal and Quangang District Federation of Labor Unions accompanied the research. (Zhang Lei)