The Company Started the Relocation Project of the Employees Cafeteria in Plant Area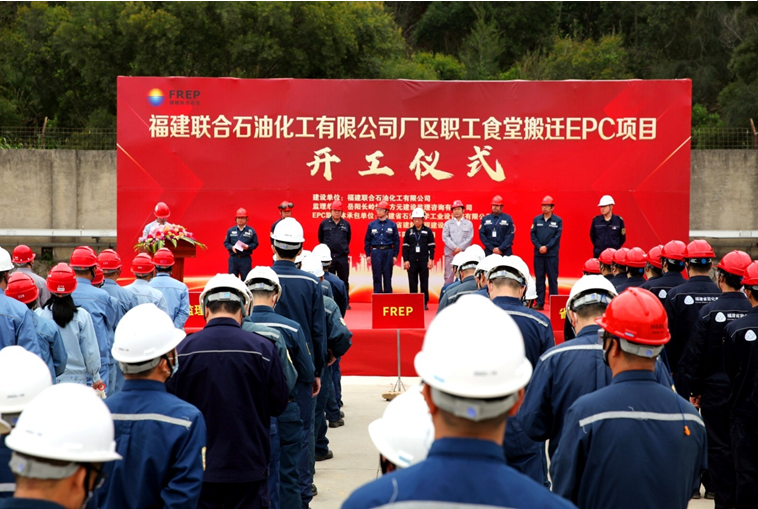 On April 12, the Company held the kick-off ceremony of the Employee Cafeteria Relocation Project in the plant area, marking the official start of the construction phase of this livelihood project.
Suchart Phowatthanasathian and Li Ji, Vice Presidents of the Company, Shi Gongsheng, Vice President of Fujian Petrochemical Industry Design Institute Co., Ltd. and Hu Jiabin, Chairman of Fujian Jianhui Engineering Construction Co., Ltd. attended the ceremony.
Li Ji thanked all parties involved in the Project for their hard work. He commented that with the joint efforts of all parties, we have completed all permit procedures and officially started construction of the project.
Li Ji emphasized that first we should strictly manage HSE work. The construction contractors should implement the principal responsibility of production safety, improve safety awareness, and work hard on safety management of direct field operations, and ensure the entire construction process is safe and under control. Second, we should strictly control the quality of the Project, and put quality first for the Project of lasting importance. All parties should carefully design, scientifically formulate construction plans, promote construction in a legal and compliant manner, and ensure effective quality management throughout the entire construction, thusly to build a high-quality and exemplary project. Third, we should schedule the construction with a fixed completion time, put up the schedule on the wall, innovate construction methods, and optimize schedule on the basis of ensuring safety. With high sense of responsibility and mission, complete construction targets and put the Project into operation as soon as possible, to improve employees' dining experience.
Suchart Phowatthanasathian affirmed all parties' strict adherence to the safety commitment. He commented that the cafeteria would provide all-day meals for employees working in the plant area. It was not only a cafeteria, but also a home of the employees. All parties should be attentive, strictly abide by the safety commitment, strengthen safety leadership, focus on intrinsic safety, ensure full process safety control, and successfully complete the Project.
In the end, Suchart Phowatthanasathian announced: "The Project starts!"
Representatives of the participating units, including Fujian Petrochemical Industry Design Institute Co., Ltd., Fujian Jianhui Engineering Construction Co., Ltd., and Yueyang Changling Fangyuan Construction Supervision Consulting Co., Ltd., also delivered speeches. They commented that they would uphold the bottom line of work safety, strictly implement safety responsibilities, and strive to complete the Project's targets with greater determination, up to higher standards, and by more effective measures, and contribute to the development of FREP.
Management personnel of Mechanical Department, Human Resources& Administration Department, Technical &Planning Department, HSE Department of the Company, as well as representatives of all participating units and relevant personnel, attended the ceremony.
In this Project, three new cafeterias, A, B and C, would be built in the same area, with a "triangle" layout and a total construction area of over 3,200m2. It is an important livelihood project for the Company to provide services to the employees and improve their dining environment. The intermediate handover was scheduled in mid-June 2024. After the cafeteria put into use, it will expand food supply capacity, meet the dining needs of the employees working in the plant area, improve dining experience and logistics support, and satisfy future expansion and development needs of the Company. (Lu Zhengqin, Zhang Lei)