President Saleh Yahya Al Zaid and Other Management of the Company Visited the Suppliers in Beijing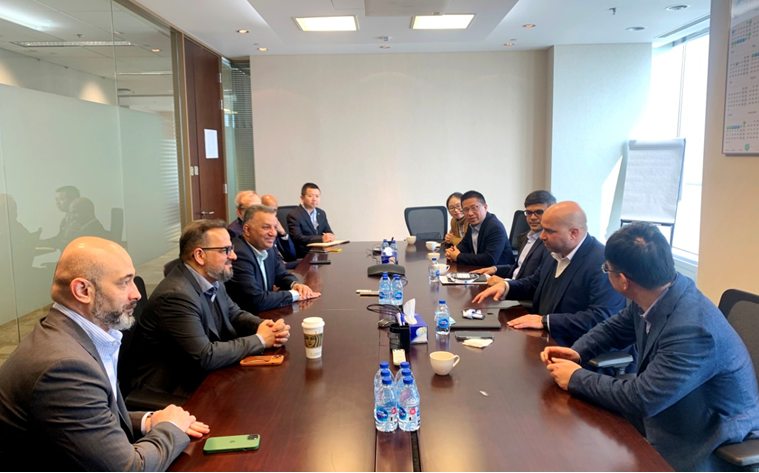 President Saleh Zaid and Vice President Li Ji of the Company visited Saudi Aramco (Asia), China International United Petroleum & Chemicals Co., Ltd. (hereinafter referred to as Unipec), and Sinopec Material and Equipment Department (hereinafter referred to as Sinopec Equipment Department) to express gratitude to them for their support and help in production and operation of FREP in the past year.
At Saudi Aramco (Asia), Saleh Zaid and Li Ji had in-depth discussion with Anwar Al Hejazi, President of Saudi Aramco (Asia).
Saleh Zaid thanked Saudi Aramco (Asia) for their strong support to FREP in crude oil varieties, quantities and shipping schedules. He hoped the two sides would strengthen visits and exchanges, maintain stable relationship and achieve sustainable win-win relationship. He commented that as the economy is gradually improving, FREP would maintain a close and all-round high-quality partnership with Saudi Aramco to promote mutual development. He warmly invited President Anwar Al Hejazi to visit the Company.
Anwar Al Hejazi commented that they highly valued the cooperation with FREP, and would provide strong support in crude oil supply for FREP to achieve its annual targets.
In Unipec, Saleh Zaid and Li Ji had a discussion with General Manager Zhong Fuliang of Unipec, and the two sides discussed topics of common concern.
Saleh Zaid first reviewed the cooperation between the two sides and thanked Unipec for their support to FREP in crude oil import agency and spot crude oil supply. He commented that Unipec was not only an important business partner but also an old friend of FREP, and hoped the two sides to maintain good cooperative relationship in the new year, make continuous efforts and achieve better performance.
Li Ji commented that with the support of Unipec, FREP not only effectively ensured supply of crude oil and chemical feed stocks, but also achieved diversified crude oils and improved profitability of the units. In 2023, close cooperation and continuous improvement were expected.
Zhong Fuliang commented that serving customers is the responsibility and commitment of Unipec. Based on the optimistic market outlook for 2023, the two parties should strengthen cooperation for better performance.
In Sinopec Equipment Department, Saleh Zaid and Li Ji met with General Manager Kong Xiaoqiang.
Saleh Zaid commented that FREP would carry out a site-wide turnaround in 2024 and need to purchase a large amount of equipment, materials, and services in advance, and requested support from Sinopec Equipment Department for successful completion of the procurement tasks.
Kong Xiaoqiang expressed appreciation to FREP for its support and trust to Sinopec Equipment Department. He commented that Sinopec Equipment Department always attached great importance to the cooperation with FREP, spared no efforts to optimize material supply and services and provide all-round support for production and operation of FREP. In future cooperation, both parties should further strengthen communication and collaboration, and promote common development.
Through visits, the Company and the suppliers promoted friendship and discussed cooperation, further understood the counter party's needs, and laid a solid foundation for enhancing mutual trust, deepening cooperation, and achieving win-win development. (Qian Jinjun)