Employees of the Company Won Silver Medal in Sinopec Environmental Monitor Professional Skills Competition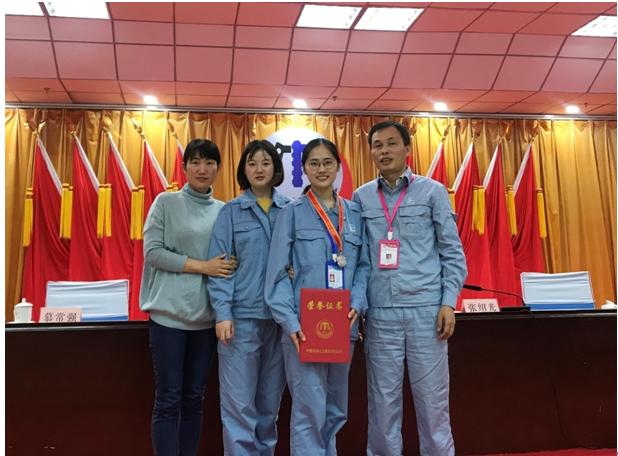 From October 23 to 24, Sinopec environmental monitor professional skills competition of 2019 was held in Qilu Petrochemical Company with 96 competitors from 42 units of Sinopec. FREP sent two employees, Feng Zhe and Zheng Yuting, as well as the team lead Weng Zhifan and Zhuang Wenmei, the practical coach.
Through the theoretical and practical tests, seven gold, seven silver and seven bronze prizes were awarded in the competition. Feng Zhe, the player of the company, performed outstandingly in the final of the competition and won the silver award for the company. This is the first time that the company won this award in this kind of competitions of Sinopec Group.
Before the competition, two youth Party members, Feng Zhe and Zheng Yuting, through team selection, practical operation and theoretical examination, stood out to take on the important task. In the following more than one month's preparation time, in order to gain more learning time, Feng Zhe and Zheng Yuting gave up their personal rest time and practiced after work. The team lead Weng Zhifan and coach Zhuang Wenmei worked hard with the two players from instrument calibration to reagent preparation. They not only provided guidance and assessment for the players, but also helped them to find out the deficiencies and made corrections. They not only had their own roles and responsibilities, but also closely cooperated to ensure that competitors have no dead ends in both theory and operation.
Because of the good preparation, during the competition, Feng Zhe, with solid theoretical knowledge and operational skills, overcame a series of difficulties within the time limit, successfully completed all tests, and finally achieved excellent results.
As the youngest and most junior team in the competition, this competition is a valuable opportunity to compete with the masters, most of who are technicians. After learning and exchange, they not only broadened their horizon, but also found their shortcomings.
It's not by luck that the company's team won this award for the first time. In recent years, Product Quality Center in Technical & Planning Department attached great importance to the improvement of employees' skills, continuously improves the skill training system, strengthens the training of employees' comprehensive quality, especially the training of new employees, transforms the skills training into daily work, and founds a strong lab test team with excellent technical skills.
It is reported that this competition is for promoting professional development of environmental monitoring and the construction of talent team, and improving the overall skill of environmental monitoring personnel by promoting practice and learning through competition. The competition covers laws and regulations related to environmental monitoring, standard methods, rules of Sinopec Group, professional theoretical knowledge, professional skill requirements, etc. (Weng Zhifan)