Company Management Visited Employees in Need in Mid-Autumn Festival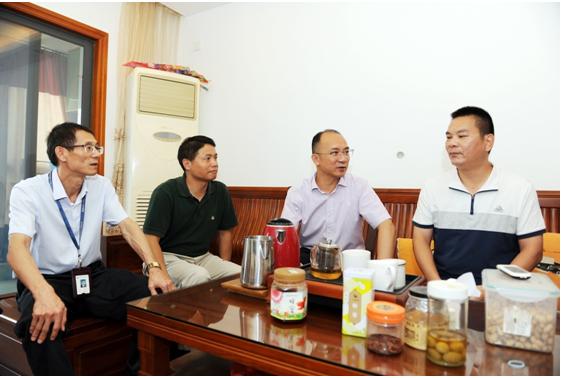 In the morning of September 12, when the Mid-Autumn Festival is approaching, Yang Hongbin, Deputy Secretary of the Party Committee, Secretary of the Discipline Commission and chairman of the Labor Union of the company, led personnel of the Party and Union Department of FREP and Party and Union Division of FPCL. visited the employees in need and sent them the consolation money and festival wishes.
At Feng Yiqiang's apartment, Yang Hongbin asked Feng Yiqiang about his illness in details and encouraged him to keep an optimistic attitude and believe in a better future; he could ask the Labor Union for help whenever he had difficulties and needs, and the Labor Union would do its best to help him out of some difficulties. And told him to take care of his health and wished him a happy and harmonious Mid-Autumn Festival.
When visiting Wang Wenjiang, an employee in need, Yang Hongbin carefully asked about his family situation. Wang Wenjiang left his post for blindness. His child took the college entrance examination this year and is now studying in the university in Xi'an. Yang Hongbin encouraged Wang Wenjiang to be confident in life and see hopes from his child, and believe that life will become better.
Wang Wenjiang thanked the company management for their care and help. He said excitedly, "Thank the company management for coming to visit us personally during your busy calendar. With the cares and sympathy of the big family of the company, we feel warm from the bottom of heart." He said that his child studied very hard and were admitted to a petroleum university. He hoped that he would come back to work in the company after graduation, take over the baton of his father's generation and work and live in this harmonious and warm family.
Over the years, the company's Labor Union goes deep into the employees' families, investigates and found out their living conditions, set up files for employees in poverty, collects the first-hand information of the employees, with clear understanding of the basic information and actual situations, and realizes targeted poverty alleviation and effectively solved the practical difficulties of employees in need. Especially for the employees who suffer from financial difficulties caused by illness, they not only care about their work and life, but also visit them during holidays, and send the care of the company management to those in need, which makes the employees feel warmer. (Xiao Wanyuan)