Full Respect for Elderlies at Double Ninth Festival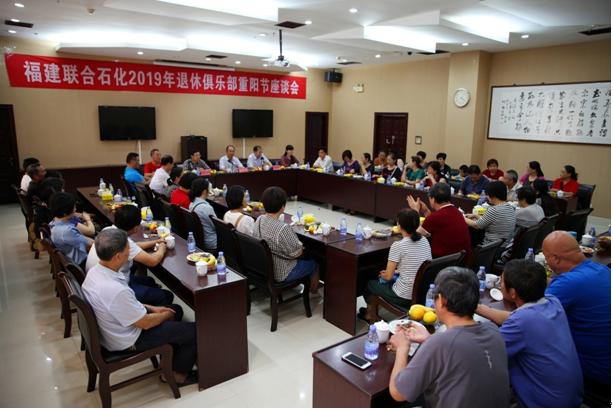 In the golden autumn, people get gathered for the Double Ninth Festival. On the occasion of celebrating the 70th anniversary of the founding of the People's Republic of China and the traditional Double Ninth Festival, in the afternoon of September 30, the company held a forum of the Retirees Club on the Double Ninth Festival in Furui Hotel to further promote the traditional Chinese virtues to respect, honor and care the aged. The forum was chaired by Yuan Huadong, General Manager of Human Resources and Administration Department.
Yang Hongbin, Deputy Secretary of the company Party Committee, Secretary of the company Discipline Commission and chairman of the company Labor Union, gathered with more than 60 representatives of the retired employees to share their friendship, talk about the future and celebrate the Double Ninth Festival.
Yang Hongbin first sent holiday greetings and good wishes to the retired employees on behalf of the Party Committee of the company. He said that tomorrow is the National Day, followed by the Double Ninth Festival. He wished all good health, good luck and family happiness.
Yang Hongbin said passionately: looking at the familiar faces of all of you here, I recalled the past scenes of work, as if it happened yesterday; in moments, you entered retirement ages after contributed the youth to the company, and your wisdom and sweat for the development of the company are greatly appreciated. I hope you can take care of yourselves and live a happy, harmonious and healthy retirement life.
Yang Hongbin had a cordial conversation with the retired employees, asked about their life after retirement, understood their difficulties and demands, and encouraged the retired employees to continue to contribute their wisdom, care about the development of the company, and proactively put forward valuable suggestions.
Li Gang, director of the Party and Union Department, delivered a holiday speech, wishing all retired employees a happy Double Ninth Holiday, good health, family happiness and all the best.
Zhang Jianzhong, the head of the company's retirees club, introduced in details the organizational structure, personnel composition, activities and other aspects of the retirees club, and explained the plan of following work.
At the meeting, the retired employees expressed their opinions and heartfelt thanks to the Party Committee and management of the company for their care to retired employees. They were full of pride and gratification for the company's rapid development and changes. They shared memories of the past, talked about their enjoyable life and had a warm exchange on interested topics.
The forum on the Double Ninth Festival drew a perfect end in a warm, happy, warm and harmonious atmosphere. (Zhang Lei)