公司党委书记、董事长顾越峰调研污水处理场异味治理项目
Mr. Gu Yuefeng, Secretary of Company Party Committee and Chairman of the Board of Directors of the Company, Visited the Odor Treatment Project of Waste Water Treatment Plant for Research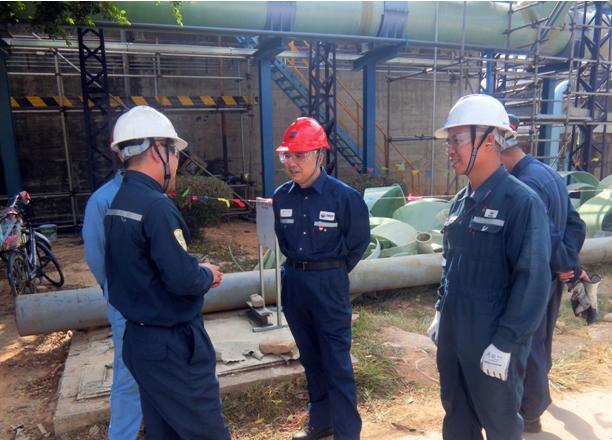 In the afternoon of October 15, Mr. Gu Yuefeng, Secretary of Company Party Committee and Chairman of the Board of Directors of the company, visited Utilities Business Team for a research to the odor treatment project of the waste water treatment plant, and asked the progress of the project in details.
Mr. Gu Yuefeng affirmed the field standardized management. He commented that after overcoming a series of difficulties like relocation, high schedule pressure and great safety responsibility, the project was hard-earned. He hoped that all participating units can spare no efforts in the following stage to ensure safety and quality, and build an outstanding project.
Mr. Gu Yuefeng required that the concept of ecological red line should be firmly established, people should not cross the red line of ecological and environment protection. In accordance with the requirements of the Themed Education, focus on identifying gaps and implementing rectifications, absolutely implement all rules and regulations, improve field standardized management, strictly control issues from the sources, ensure effective odor treatment of waste water, and to protect the blue sky with concrete actions.
Business Team Manager Zhang Aixin reported the progress of the project. He said that while ensuring equipment reliability, business team continuously optimized measures, improved work efficiency and ensured the steady progress of the project.
At present, in order to fully implement the work of energy conservation and emission reduction, oily waste water has reached the standard of full reuse. On October 13, the odor treatment project of the oily waste water plant entered the closeout phase, the temporary skid equipment was removed, and the new and old tail gas systems were connected; before November 15, the temporary skid equipment of saline waste water plant will also be removed. Bacteria of tail gas project have been added and the fan is in trial operation.
Introduced by PCL Shi Shajun, business team has completed the alignment with the next stage of commissioning and trial operation to ensure the refined operation of the operating systems. (Qiu Jiahao)