Wang Wensheng, Command of Fujian Provincial Fire Department, Visited the Company for Research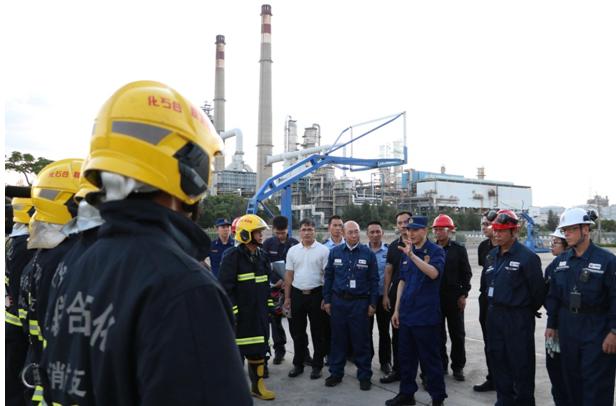 In the afternoon of September 11, a research group led by Wang Wensheng, Command of Fujian Provincial Fire Department, visited the company to research the fire protection work.
President Joost Emmen, Vice President Lin Xun and Vice President Zhao Tianxing of the company accompanied the group in the research.
Wang Wensheng and the group visited the exhibition hall and the central control room of the new plant, listened to the brief introduction of the company, and conducted in-depth inspection of the tank farms, foam station, security monitoring center, fire brigade and etc.
At the fire station in the plant, Wang Wensheng tested the fire alarm to the first fire brigade of the company, then checked the continuous water supply of the fire jetting engines and the high-power fire foam engines, inspected the cooperative combat capability of the brigade members, tested the business knowledge of the captain on duty, checked the stock varieties and quantities of the foam extinguishing agents, and communicated with the company management on fire-fighting work of the company.
Wang Wensheng commented on the fire brigade's on-duty work and combat readiness. He said that FREP's Fire Brigade has high quality personnel, skilled on-duty captains, strong fighting consciousness, good mental outlook, and good fire engines and equipment. He also had a face-to-face communication with the frontline firefighters and pointed out the improvement opportunities of routine work and training. He hoped that all the firefighters would continue to maintain a strong fighting style, carry out joint on-duty and training between the enterprise and local authorities, and continuously enhance the combat capacity of disaster relief and fire extinguishing. Strengthen combat readiness and do a solid job of fire safety and security during the National Day holiday.
Vice President Lin Xu said that FREP has always attached great importance to fire-fighting and security work, continuously intensified the construction of fire infrastructures, push he normalization of hazard investigation, and proactively responded to the linkage and cooperation between the company's fire brigade and the local government's fire departments.
The two parties then launched in-depth discussions on the construction of fire brigade, the use of fire foam and the joint on-duty, joint training and operation of the enterprise and local authorities.
Yan Zhaohui, Director of Quangang District, Su Songyan, Deputy Secretary of District Party Committee, Shi Yiwei, Political Commissar of Quanzhou Fire Brigade, and Mak Chee Wah, General Manager of HSE Department of the company accompanied the group in the research. (Zhuang Jiansong)