Company Management Visited Employees in Need before the Spring Festival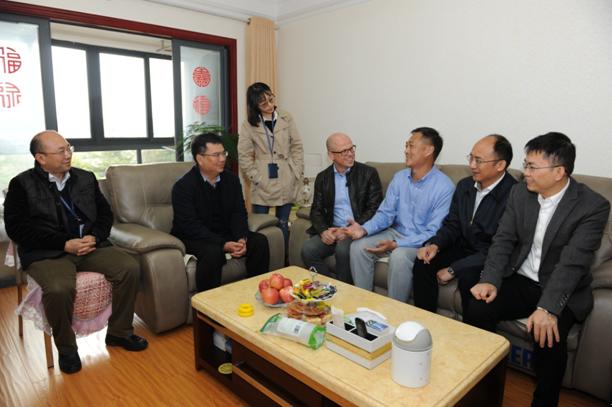 As the Spring Festival approached, the employees in need were weighed on minds of Company management. The support in need warms the employees' hearts in the cold winter.
On the morning of Feb. 1st, the Company management Mr. Joost Emmen, Mr. Nouraddin A. Yousuf, Mr. Yang Hongbin, Mr. Lin Xu and Mr. Zhao Tianxing led relevant departments management to visit the employees in need and sent them holiday supplies and condolence money, expecting them to have a happy and peaceful Spring Festival.
As arrived at the apartment of Zhang Liang, the employee in need, the Company management learnt about the living conditions in detail. President Mr. Joost Emmen commented that Zhang Liang had encountered great difficulties and was went through great pressure in the past year. He expected that the new year would bring him good luck and they could remain happy and good mentality.
Deputy secretary Mr. Yang Hongbin encouraged Zhang Liang to face the challenges of life. He said that Zhang Liang was living in an apartment with positive atmosphere, i.e. an apartment that well-organized with plenty of sunshine. He advised Zhang Liang to balance exertion and rest, proactively cooperated with the medical treatment, and requested Olefin BT and relevant departments to give Zhang Liang special care in both work and life.
Zhang Liang appreciated the Company and the BT for their strong support since he got ill. It was the Company's care and help that brought him more confidence to defeat the disease.
At the apartment of employee in need Zheng Suhua, the Company management were gratified and encouraged by the positive and healthy attitude of Zheng Suhua and the spirit of facing the challenges of life.
Zheng Suhua said with excitement, "I'm grateful that the Company management could take time out to visit us. With care from the big family of the Company, we all feel warm and happy."
President Mr. Joost Emmen said that "Today, we are very happy to see that you are talkative with positive attitude to face difficulties. The Company's development and performance is indispensable from the solid foundation laid by all employees, including you with your unremitting efforts and hard work. FREP will not forget all the employees who have contributed, and will not leave behind every single employee who has difficulties. I hope you could maintain good mood and live happily."
Vice president Mr. Nouraddin A. Yousuf hoped them to be optimistic to life with strong confidence, and get through the difficulties earlier. He wished them a warm and peaceful Spring Festival.
Visiting the employees in need before the Spring Festival was a tradition of FREP. At every family visited, the Company management chat with employees and their families cordially, asked about their living conditions and encouraged them to build confidence, maintain good attitude, and turn to the Company for any difficulties. As long as we stick together, there would be no difficulty we could not overcome.
The emotional greetings conveying best wishes and family-like care, which warmed the hearts of employees. They were deeply grateful for the care and help of the Company management. They said that they were more determined to overcome the difficulties, to turn the Company's care into work motivation, to do their jobs and return the Company. (Xuan Wen)