Mr. Anwar AI Hejazi, President of Saudi Aramco Asia, visited the Company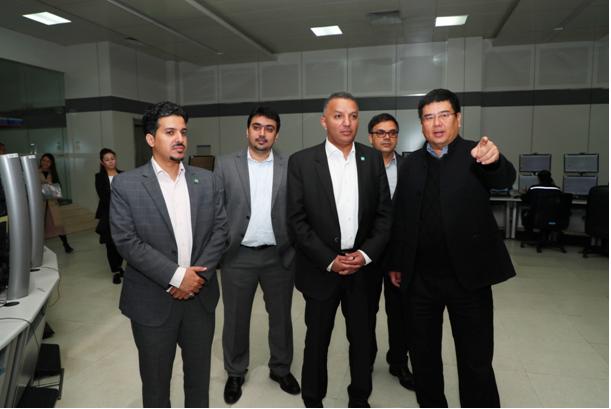 On Jan. 9, Mr. Anwar AI Hejazi, President of Saudi Aramco Asia, and his group of 5 people, visited FREP.
President Mr. Joost Emmen, Vice Presidents Mr. Nouraddin A. Yousuf, Mr. Lin Xu and Mr. Zhao Tianxing met with Mr. Anwar AI Hejazi and his group.
Mr. Anwar AI Hejazi expressed that he was glad to visit FREP and affirmed the accomplishments of the joint venture. He thanked the Company for the support to the training of staff from Jizan refinery.
Mr. Anwar AI Hejazi said that the achievements of FREP were obvious to all, especially the significant improvement of financial status. All these were the accomplishments of the unremitting efforts of the current and previous management of the Company, including the management group led by Mr. Joost Emmen. He affirmed FREP's actions on improving safety culture and emphasized the need to thoroughly understand the course and root causes of the incidents, to attach great importance to certify qualifications and certificates, as well as operation review/ approval procedure, including safety compliance.
Mr. Anwar AI Hejazi expected FREP to keep paying attention to safety and reliability, and maintaining good financial status. He hoped all shareholders to further strengthen cooperation and promote the continuous improvement of profitability of the joint venture. He believed that FREP would achieve good results in 2019 and create a better future.
On behalf of OOP, Mr. Joost Emmen welcomed Mr. Anwar AI Hejazi for his visit, and expressed gratitude to him for his comments and affirmation to the accomplishments of FREP. He said that the management was determined to improve the improvement plan, take necessary measures and actions, and continuously improve operation performance. The Company needs to receive support and help from shareholders, work together to advance toward the common goal of drive FREP to be a world-class petrochemical company with sustainable competitiveness.
Mr. Anwar AI Hejazi also learned more about the development, construction and operation of the joint venture, as well as 2018 turnaround and the Operation Integrity Management System.
During the meeting, the two sides exchanged souvenirs.
Accompanied by vice president Mr. Nouraddin A. Yousuf, Mr. Anwar AI Hejazi visited CCR2 and the exhibition hall. (Xuan Wen)