Company Management Visited Turnaround Construction Companies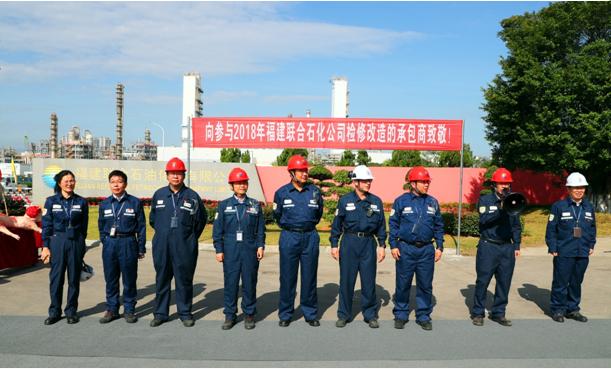 In the morning of December 6th, at the crucial stage of FREP 2018 turnaround, Company president Mr. Joost Emmen, vice president Mr. Nouraddin A. Yousuf, vice president Mr. Lin Xu and vice president Mr. Zhao Tianxing went to the site to visit the construction companies engaging in the turnaround, and presented the care and greetings of FREP to all the participants.
At present, the turnaround has entered the most critical stage, as well as the most exhausting maintenance stage. The physical and mental states of the participants are very important. For safety, quality and schedule of the turnaround, the Company arranged the turnaround visits to encourage all the personnel engaging in the turnaround to work hard for the common goals.
OOP commented that FREP 2018 turnaround had been carried out for more than a month, during which all participating contractors had united as one, working hard to overcome difficulties and adhering to the "one team, one goal" concept, which guaranteeing the smooth progress of turnaround. The participants on site had been working around the clock in all weathers. OOP expressed sincere gratitude to everybody for their hard work.
OOP hoped that all the contractors would continue to strictly control over field construction safety, ensure construction quality, and work as per schedule if the conditions could be met, and strive to achieve "safe, high quality, efficient, on-time" startup. At the same time, OOP emphasized that that the cross-operations at site were complicated at the ending phase of each unit, which created more challenges to safety management. Both the construction personnel and the operation personnel should attach pay high attention to safety. OOP expected that all the people working for the turnaround could "carry out maintenance happily and go home safely."
The care from OOP to all the turnaround participants strengthened the confidence and determination to win the turnaround battle. The participating contractors expressed that it was their duty to carry out the turnaround. They would proactively overcome the difficulties and live up to the trust and expectation of FREP management, and deliver an outstanding turnaround result.
It was reported that the Company purchased 33 pigs from Metro as gifts to the 14 construction contractors including Sinopec Nanjing Engineering Co., Sinopec Fifth Construction Co., Sinopec Tenth Construction Co., CCESCC, Hubei Jinshi Co., Changlian Co., Yangzi Co., Tianjin Lianwei Co., Guangdong Maoming Chemical Construction Co. and Fujian Installation Co.
The responsible persons of Process Dept., Mechanical Dept., T&P Dept., HR&A Dept. etc. participated in the visits. (Xuan Wen)