Company Party Committee Organized 2017 Training Session for Active Applicants for CPC membership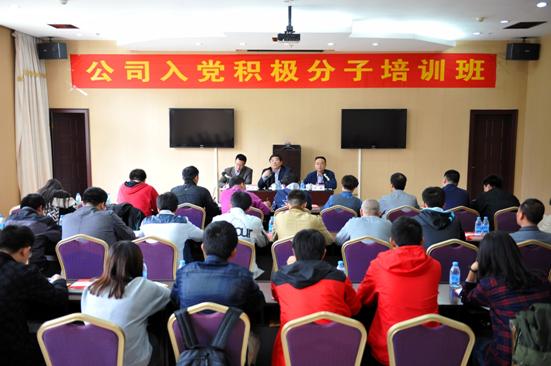 Company Party Committee held Year 2017 training session opening ceremony for active applicants for CPC membership on March 31st. In total, 35 active applicants from grassroots general Party branches and Party branches participated in the training according to the recommendations of various grassroots Party branches. Party Secretary Mr. Chen Xiaobo presented the ceremony and delivered a mobilization speech at the ceremony.
Party Secretary Mr. Chen Xiaobo required that firstly applicants shall learn elementary knowledge about CPC to deepen understanding of the Party and strengthen the conviction to always follow the leadership of the Party; secondly shall master scientific theories and foster correct outlook to the world, life and value and remain firm on correct political conviction; thirdly shall study hard scientific and cultural knowledge and cultivate a strong consciousness of innovation and adapt themselves to the development of times; fourthly shall observe disciplines and make the training more effective.
In implementing the guidelines for developing Party organizations, i.e. ensure only qualified applicants get admitted, optimize the structure of Party members and admit applicants on a prudent basis, the training aims at increasing efforts to foster and educate active applicants for the CPC membership and to well manage the development of Party members in 2017.
Participants of the training session learned Constitution of the CPC, History and Fundamental Experiences of the Chinese Communist Party and other contents, and watched videos on important remarks given by Xi Jinping, General Secretary of the CPC. The training is given in the form of classroom training and self-learning, and test of training results includes written test and writing of training summary.
Through training, participants deepened their understanding of the fundamental knowledge about and theories of the CPC, and learned about the qualifications required to be a Party member as well as rights and obligations of a Party member. Participants said that they would dedicate to their jobs and continue to learn theories of the Party, understand major guidelines and policies of the Party, improve mastery of theory, set up scientific outlook on development and grasp scientific laws. They will work harder to improve job skills and competency and contribute to the development of FREP. (Xiao Wanyuan)