Visitors from Nanjing Petrochemical Chamber of Commerce visited FREP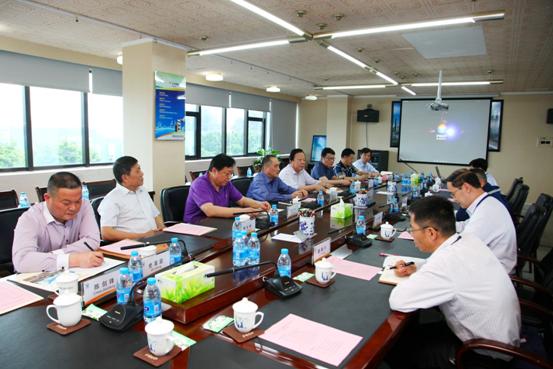 On April 18th, Mr. Zhang Daben, the Standing Vice Chairman and Secretary General of Nanjing Petrochemical Chamber of Commerce, and his delegation visited FREP. FREP Chairman and President Mr. Gu Yuefeng welcomed and had a friendly communication with Mr. Zhang Ben and his delegation.
Mr. Zhang thanked FREP management for taking the time to meet them. He expressed that it was a great honor to make technical communication and exchange with FREP. He said: "I pay close attention on the development of FREP. Learned from China Petrochemical News that FREP, as one of the outstanding petrochemical enterprises, delivered a speech on its typical experience at Sinopec 2016 Annual Work Conference and won the Chemical Profit Outstanding Company in Sinopec in 2016, I would like to congratulate FREP." He also expressed appreciations for FREP's good profit achieved in this year.
He said: "I visited the production plant in the morning and observed that FREP employees on site were in good spirit. Their go-ahead spirit recalled me the work experience petrochemical enterprise in my youth. FREP's excellent employee group is essential for the development of the Company. FREP introduced advanced management experience and concepts from Chinese and overseas shareholders and made remarkable achievements in safety, reliability and profit." He hoped that Nanjing Petrochemical Chamber of Commerce and FREP can strengthen technical exchanges and make mutual cooperation for win-win development.
Mr. Gu Yuefeng welcomed Mr. Zhang Daben and his delegation for their visit and the technical exchanges. He introduced to the visitors the development of FREP in recent years and expressed that both sides may discuss more business cooperation subject to the provisions of national laws and regulations, enterprise profit growth target and the environment protection requirements. He said that the two sides would understand each other more through communication, so as to complement each other with own strengthens and explore potential technology exchange and cooperation for mutual benefit and win-win result.
Chairman Mr. Shen Fuchang and Deputy General Manager Mr. Zhu Zhongwei of Jiangsu Fuchang Environmental Protection Technology Group, General Manager Mr. Li Wenping and Deputy General Manager Mr. Shi Xiting of Jiangsu Sutan Construction Company Limited, and the responsible persons and relative personnel from FREP Process Dept., Mech. Dept., S&D Dept., HR&A Dept. and COOP attended the meeting. (Xiao Wanyuan)