State Administration of Work Safety Visited FREP for Special Inspection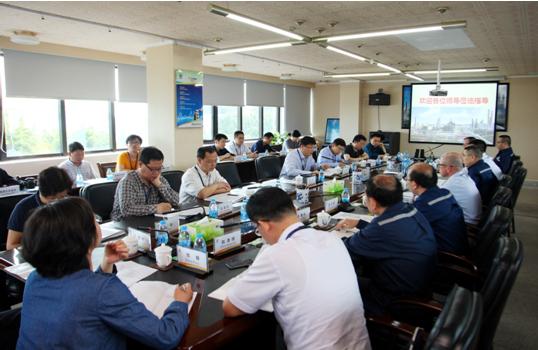 In order to improve safety management of PX production enterprises, identify and rectify potential safety hazards, prevent and control incident concerning hazardous chemicals, from April 17th to April 18th, Mr. Liu Rong, the lead of the 3rd PX safety special inspection team of the State Administration of Work Safety and the Deputy General Manager of Sinopec Tianjin Petrochemical Company, led relative experts and accompanied by the heads and relative personnel of provincial, municipal and regional administration of work safety, visited FREP for PX safety special inspection. FREP management Mr. Gu Yuefeng, Mr. Nouraddin A. Yousuf, Mr. Joost Emmen and Mr. Liu Yanchang, reported safety production situation of the Company to the inspection team and accompanied the site inspection.
The inspection team conveyed the spirit of PX safety special inspection from the State Administration of Work Safety. Through listening to reports, inspecting plant site and control rooms, inquiring individuals, the inspection team inspected the process flow, safety control points, production capacity, products flow and incident emergency handling about sensitive products such as PX that are currently highly focused by the public.
During the inspection, the inspection team learned that FREP strengthened organization and leadership on safety work and seriously carried out potential hazards identification/ rectification and incident prevention. First, focus on taking owner responsibility of the enterprise and improve safety production responsibility system. Second, strengthen safety supervision and carry out identification/ rectification of critical potential hazards. Third, conduct safety education and training, improve safety awareness and skills of employees and contractors. Fourth, be strict in managing the direct operation links, ensure safety in operation process. Fifth, strictly implement the disciplines on processing and startup/ shutdown, ensure all risks are under control. Sixth, control critical hazard sources, strengthen control and management of critical safety facilities. Seventh, improve emergency rescue system as well as the management of emergency rescue.
The inspection team required FREP to clearly understand the serious situation of safe production, further enhance safety and environmental protection awareness and earnestly carry out the work in four areas: First, to attach great importance to safety production, establish and fully understand the concept that nothing is trivial in safety production, publicize safety production to the frontline employees and engage everybody in safety production work. Second, to ensure supervision in place, and conduct self-inspection, management supervision, and expert inspection to ensure no loopholes. Third, to ensure the responsibility system in place, including leadership responsibility, supervision responsibility and owner's responsibility of the enterprise. Detail safety production responsibility to each level of the organization and each individual. Furth, to ensure completeness and implementation of relative measures, be strict in the details of management, identify potential hazards and make full efforts on rectification, thus to ensure there is no blind angle in safety production and build a sound foundation for safe production.
Mr. Gu Yuefeng said that since the 18th National Congress of the Communist Party of China, the government has been increasing the requirements and the standards for safety and environment protection. Enterprises should strictly abide by national laws and regulations. He commented on the importance of safety. The inspection team visited FREP this time and helped FREP in improving management of production, operation, safety and environmental protection. We shall attach great importance to the problems identified by the inspection team, and make unremitting efforts on rectification of these problems. We shall pay close attention to rectification and be strict in implementing the accountability system, and report rectification progress to the inspection team in due time.
Responsible persons and relative personnel from HSE Dept., Process Dept., T&P Dept. and Mech. Dept. of the Company attended the summary meeting and accompanied site inspection. (Xiao Wanyuan)